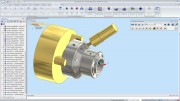 Swoosh Technologies announces the release of CAMWorks for Solid Edge 2015. CAMWorks reduces programming, setup, and machining times while maintaining an excellent user experience.
St. Louis, MO, January 20, 2015 (Newswire.com) - Swoosh Technologies announces the release of CAMWorks for Solid Edge 2015. CAMWorks is a feature based CAM software that works to help companies increase productivity and efficiency in machining with intuitive, adaptable automation tools. The latest release for 2015 adds new features to the software and updates the innovative tools already offered
CAMWorks for Solid Edge 2015 brings smarter programming and faster setup and machining times in a way that maximizes user experience.
Improved User Experience Features
New enhancements to the software include features like TechDB enhancements which allow rotary and tilt axis parameters within the milling machine definition and fixed or free options for 2.5 axis operation defaults. Also included for 2.5 axis mill are the full editing capabilities for interactively defined features.
Other updated features include Support Lead In/Out Parameters for turn thread operations. material based multiple cutting tool parameters, and tool crib priorities options for turn and mill-turn modules.
Reducing Programming Time
Users can now save time in CAM data updates with an extended ability to run a light rebuild when minimal changes are made to the model.
The new Operation Dialogue Box allows even more control on the tool selection while adding interactive Hole, Mill, and Turning operations.
Reducing Setup and Machining Times
For setup, CAMWorks Virtual Machine provides a True G-code module which includes controllers from over 24 OEMs. With CAMWorks Volumill, users can reduce machining time of models with more complex geometries -- for example, 2 stepped islands can now be automatically machined. Tool life can be extended while roughing times can be reduced by up to 80% with this new release.
To learn more or to see a demonstration of CAMWorks for Solid Edge in action, please contact Swoosh Technologies today.
Share: