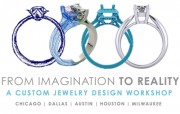 Helping jewelers in the industry simplify their production process with 3D printers and CAD software, the experts of Solidscape and Swoosh Technologies will be hosting custom jewelry design workshops in select cities.
St. Louis, MO, May 27, 2015 (Newswire.com) - The 3D printing experts of Solidscape and the experts on CAD design software at Swoosh Technologies will be hosting custom jewelry design workshops for manufacturers, designers, and owners in the jewelry industry. The workshops - taking place from June 16 to June 19 - will be held at 10AM CST as well as 2PM CST in the following cities and locations:
Chicago, IL at the

Radisson

Chicago O'Hare (June 16)
Dallas, TX at the

DoubleTree

by Hilton Near the Galleria (June 16)
Austin, TX at the Hilton Garden Inn Austin North (June 17)
Houston, TX at the La Quinta Inn & Suites - Galleria (June 18)
Milwaukee, WI at the Milwaukee Marriott West (June 19)
The custom jewelry workshops are designed to help jewelers simplify their production process - all from the concept stage to completion. "Jewelers spend days to weeks creating a single piece of jewelry," explains Dan Wibbenmeyer - co-owner of Swoosh Technologies. "What if jewelers could easily and quickly capture their idea into a visual, realistic masterpiece within minutes? And what if they could deliver a custom piece of jewelry within a few days - or even less?" Delivering custom jewelry pieces more efficiently without sacrificing quality plays a big role in the industry. The workshops will show how to apply digital design - with an exclusive-to-jewelers CAD design software, Jewelry CAD Dream - and 3D wax printing to rapidly create and produce one-of-a-kind custom jewelry - resulting in more business and an increase in profitability.
Together with Solidscape - a leading provider of 3D printers, Swoosh Technologies is determined to assist jewelers in creating jewelry pieces more efficiently from imagination to reality - especially in time before the busy and profitable holiday seasons ahead.
Registration is open for the custom jewelry workshops. To attend the workshop in Chicago or Milwaukee, click here. To attend the workshop in Dallas, Austin, or Houston, click here.
Share: