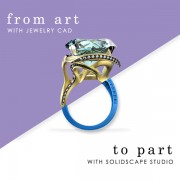 Swoosh Technologies is offering a limited-time bundle package on Solidscape Studio 3D printer and Jewelry CAD software program for the entire month of September.
St. Louis, MO, September 9, 2015 (Newswire.com) - Swoosh Technologies - a partner of Solidscape - is offering custom jewelers the opportunity to own a Solidscape Studio printer and an exclusive-to-jewelers CAD software program at special pricing. The bundled package deal is valid only in the United States until September 30, 2015.
"We want the creation of custom jewelry to be an easier process for jewelers," explains Dan Wibbenmeyer, co-owner of Swoosh Technologies. "This bundle package of the Solidscape Studio printer along with Jewelry CAD software will help those in the business thrive in custom jewelry. We want jewelry owners to embrace the technology that will allow their business to continuously grow - especially in this lucrative millennial market."
Over the past 22 years, Solidscape has been the only 3D printer company exclusively focused on the jewelry industry and prides themselves in helping jewelers grow high-end quality wax pieces made ready for investment casting. "What really differentiates us from the competition is that we use wax instead of resin. Our materials require no special casting procedures, and our surface finish is superior. This makes casting with platinum - as an example - an easy process that's seen as an issue in other printers."
Alongside 3D printing, CAD design in custom jewelry has seen an exponential growth and has allowed jewelers the ability to visually show customers what they are envisioning when it comes to their jewelry piece. "Just like how the Studio printer is made for jewelers, our CAD solution is made solely for designers of custom work."
Although the world of CAD is something many traditional custom jewelers would want to run away from, Wibbenmeyer assures that Swoosh Technologies' CAD experts - who have been a part of the CAD industry for more than 20 years - can help jewelers become proficient in the software and offer necessary support. "We want to get you to the point where you can create designs on the spot. When your customer walks through your door and asks for a kind of piece that is unique to them, you can easily utilize the CAD software and - within 10-15 minutes - show them a piece they've always imagined owning."
The bundled package deal of Solidscape Studio printer comes with model wax and building material along with the post process kit, and Jewelry CAD includes training tutorials and one month on-line advanced training. Interested custom jewelers are encouraged to call Swoosh Technologies at (314) 549-8110 or fill out the contact form to learn more about the bundle.
Share: