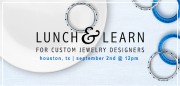 Swoosh Technologies - a Solidscape partner - is hosting a Lunch & Learn event in Houston, Texas exclusively for jewelry designers.
St. Louis, MO, August 18, 2015 (Newswire.com) - Focused on helping jewelers simplify their jewelry-making process, Swoosh Technologies will be hosting a luncheon in Houston at the Macaroni Grill on Westheimer. The luncheon - taking place on Wednesday, September 2 at 12PM CST - will showcase how Solidscape 3D printers and CAD design software can benefit owners and designers.
"We understand how critical referrals are for any jewelry owner," explains Dan Wibbenmeyer, co-owner of Swoosh Technologies. "During the luncheon, our experts will cover the areas of digital model creation, virtual presentation, 3D wax printing, and casting." Delivering custom jewelry pieces without sacrificing the quality of the design, plays a huge role in the industry on whether the jewelry shop will obtain a referral - making it an important consideration to the lucrative millennial market.
Wibbenmeyer assures that the future of custom jewelry is 3D printing and CAD design. "Using a CAD design program tool - such as Jewelry CAD Dream - can really help win over skeptic customers because they can now see an exact visual of the custom jewelry piece you created just for them." To easily go from a visual piece designed in CAD straight to printing an intricately detailed wax model followed by casting in a short time frame is something jewelers would want in their production process.
Together with Solidscape, Swoosh Technologies is determined to help owners and designers produce one-of-a-kind jewelry pieces while increasing profitability and gaining more business.
Reservation is open for interested jewelers in the Houston area. Seats are limited and can be reserved at the event page.
Share: