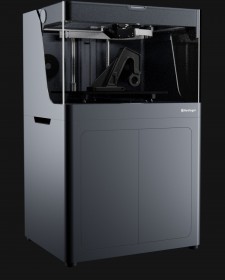 Markforged recently introduced the X3 and X5 models to their growing line of industrial 3D printers.
ST. LOUIS, August 22, 2017 (Newswire.com) - Swoosh Technologies — a Markforged partner — is excited to include and offer the new Industrial Series for local manufacturers. Markforged's new X3 and X5 printers introduce price points that enable customers to print stronger, larger, and lighter parts more efficiently.
With the arrival of the X3 and X5 printer models, Markforged has made industrial strength printing financially attainable for every manufacturing business — allowing them to better compete on a global stage.
"Local manufacturers end up choosing different options that produce either sub-par strength of printed parts or are stuck with long lead times associated with machined parts due to cost or budget," explains Eric Kocher — 3D Printing Solution Consultant at Swoosh Technologies. "With the X3 and X5, manufacturers can print carbon fiber parts that are up to 20 times stronger and cost 20 times less while ensuring they're getting the high strength printing of strong parts that Markforged is known for. Another benefit for companies is the opportunity to upgrade to the next printer model for higher strength materials and inspection utilities." The industry-exclusive upgrade program enables customers to future-proof their investments and leverage their initial investment in the X3 and upgrade to an X5 or X7 at any time.
The X3 is powered by the incredible material strength of Onyx, a high-temperature capable carbon fiber filled nylon. The X3 prints strictly engineering grade thermoplastic fiber parts and is available at the disruptive price point of $36,990.
The X5 adds the ability to reinforce an Onyx part with a strand of continuous fiberglass, making it 19 times stronger and 10 times stiffer than traditional plastics. The X5, workhorse of the industrial line, has the unique ability to deliver parts that are both strong and affordable for only $49,990.
The X7, previously known as the Mark X, remains Markforged's flagship Continuous Carbon Fiber (CCF) industrial printer platform, yielding 23 times stronger parts than with ABS materials. The X7 boasts the industry's only sub-$1M in-part laser inspection for reliable quality control with a price point of $69,000.
Markforged will be hosting a free-to-attend live webinar event on Tuesday, Aug. 29 at 10 a.m. CT that provides more information about the new Industrial Series. Those interested in attending can register here.
To obtain more information and specifications about the X3, X5, or X7, interested parties are encouraged to reach out to a Swoosh Representative at (314) 549-8110 or by going to the website.
Source: Markforged, Swoosh Technologies
Share: