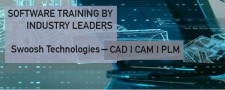 Swoosh Technologies recently added training classes for NX CAD, NX CAM, Teamcenter, and Solid Edge users. The newly added sessions are a part of the company's new fall and winter schedule.
St. Louis, MO, June 29, 2017 (Newswire.com) - Swoosh Technologies – a leading partner of Siemens PLM Software is excited to offer NX, Teamcenter, and Solid Edge users a variety of training classes that will take place in various cities. Classroom sessions being offered include (but not limited to):
NX CAD Fundamentals
NX Mold Wizard Processing
NX Surface Modeling
NX Mill Manufacturing Fundamentals
NX Post Building Techniques
​Teamcenter User Training​
Teamcenter Application and Data Model Administration
​Teamcenter Workflow Design
Solid Edge Fundamentals
As a leader in providing the best educational services the company is committed to delivering process based training solutions that change the way designers learn and leverage their PLM tools – all without the traditional training approach.
"We take our courses and the way we teach them seriously and avoid the ideals of traditional classroom training for PLM," explains Dan Wibbenmeyer – Managing Partner at Swoosh Technologies. "Our instructors have worked with Siemens PLM products for many years and have first-hand knowledge of the growth and challenges of industry trends."
With decades of experience, the instructors at Swoosh bring extensive knowledge and vast skills to teaching, and focus on helping students easily adapt to utilizing high-end features found in NX CAD, NX CAM, Teamcenter, and Solid Edge. The company has an established legacy of helping customers leverage the right tools needed for their workflow while further expanding skill set. "It's one thing to know how to use a feature in your software, but we focus on ensuring you understand why implementing the feature in your process is beneficial to your approach." 
The company's educational services are developed to teach users of all skill levels on increasing productivity and efficiency. Courses are continuously reviewed by Swoosh's certified instructors and courseware team in order to improve the process of knowledge transfer.                     
Interested users are encouraged to view and enroll in PLM software classroom training sessions through the Classroom Schedule. To obtain more information about other training options, a Swoosh Sales Representative can be contacted at (314) 549-8110 or via email at contact-us@swooshtech.com.​
Source: Swoosh Technologies
Share: