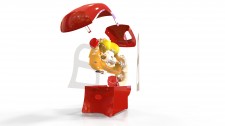 Swoosh Technologies- a leading partner and provider of Siemens PLM- will release its anticipated six-part webinar series- exploring the latest features and cloud functionalities in Solid Edge ST9.
St. Louis, MO, July 13, 2016 (Newswire.com) - Siemens PLM's latest software release- Solid Edge ST9- will be highlighted in an upcoming  webinar series. Swoosh Technologies' certified CAD/CAM experts will present new features that not only optimize software functionality but allow Solid Edge users to discover best practices within the program tool. The series will commence August 10th and end October 19th- a week prior to Solid Edge University 2016 in Indianapolis, Indiana.
Swoosh Technologies' leading Application Engineers Sam Estrada, Dylan Malek and Joe Gesualdi III will showcase the latest features and capabilities in Solid Edge ST9 to new and existing users. "The series will be a combination of information and training," explains Estrada. "It will also give a preview in what they are about to install or what users are missing out on if they are no longer on maintenance." The webinars will include the following: 
One of the new features in the latest release provides Solid Edge users with cloud capabilities for fast and flexible deployment. The new cloud capabilities provide improved user access and collaboration across remote designs teams. Estrada continued, "3D Modeling is now faster and more flexible with the removal of the constraints of traditional CAD by synchronous technology." Along with cloud enabled design, new built-in data management capabilities for Teamcenter integration enable users to take control of ever increasing volumes of CAD data. "The integration allows users to retrieve your Solid Edge licenses and preferences on the Cloud from anywhere, install software updates, optimizes performance, and reduces administration overhead."
Although the series will provide great insight on what's new in Solid Edge ST9, Solid Edge University 2016- taking place from October 25th-27th in Indianapolis, Indiana- will go further in depth about the latest features and functions, including Teamcenter integration, Catchbook, cloud-enabled design, and 3D modeling. Fellow Solid Edge users can talk to the developers, network with other users, and meet with leading application partners at the annual event. Those interested in attending SEU16 are encouraged to register for the event.
Registration for the free upcoming webinars and further information are now open at Swoosh Technologies' official page. Interested parties can speak to a Swoosh Representative about the webinar series or latest software release  at (314) 549-8110 or e-mail the team at contact-us@swooshtech.com.
Source: Swoosh Technologies
Share: