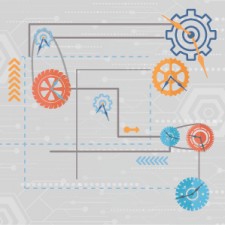 St. Louis, MO, October 27, 2016 (Newswire.com) - ​​Swoosh Technologies – a leading partner and provider of Siemens PLM software - will begin a series on best practices, latest trends, and useful tips that will provide Solid Edge users further insight on the full potential of their software.
The series' session has been meticulously planned and structured to give users different perspectives on how certain features can be better utilized when designing in Solid Edge. "Solid Edge allows a variety of ways to complete your projects with the best tools and features for your design," explains Dylan Malek – Application Engineer at Swoosh Technologies. "With so many different ways to utilize features within the program tool, there are faster ways to approach how you design. Whether you're learning the basics or designing at an advanced level, the webinar series will decrease the time you spend searching for tools."
Solid Edge allows a variety of ways to complete your projects with the best tools and features for your design.

Dylan Malek
With a working knowledge of CAD design for over 20 years Malek, will showcase base features, useful shortcuts, tips and advanced tools to further expand your knowledge in Solid Edge. The webinars will cover the following topics:
· Sketching with Synchronous & Ordered – November 7
o Synchronous technology enables 3D models from other systems to be edited as though they are native Solid Edge. 2D Part drawings can be used to recreate existing designs in 3D automatically.
· Base Features – November 30
o The first feature you construct in Solid Edge, which typically defines the basic part of the shape. Some features that will be covered are, protrusion, sheet metal tab, and lofted flange.
· Advanced Features, Lofts, Sweeps, Blue Scarf – December 14
o The Swept Protrusion command constructs a protrusion by extruding one or more cross sections along one or more paths. Solid Sweep is a feature that enables you to simulate cuts with an end mill, or the space that a moving part will occupy.
· Patterns, Circular, V Rectangular, Curve – January 11
o When building assemblies, you often need to place standard or commercially supplied parts, like nuts or bolts, and subassemblies multiple times in a pattern or mirror arrangement. With Solid Edge, you can quickly copy parts and subassemblies into a pattern arrangement.
· Multi Body Design vs. Top Down Assembly - January 25
o Solid Edge allow you to design the way you want to, whether bottom up (by assembling existing components), or top down (starting from a conceptual layout or by designing parts to fit into an existing assembly) there is a suite of assembly modeling commands and tools lets you use either approach associatively or non-associatively.
· Assembly Creations – February 8
o Solid Edge helps users can quickly and easily create and manage even the largest assemblies, without lags or crashes. Exact representation of all components are available — including tubes, pipes, wires, weldments and sheet metal, this allows for more accurate design and analysis.
Further information and registration for the free upcoming webinars are available at Swoosh Technologies' official website. Interested parties can speak to a Swoosh Representative about the webinar series Solid Edge software at (314) 549-8110 or e-mail the team at contact-us@swooshtech.com.
Source: Swoosh Technologies
Share: