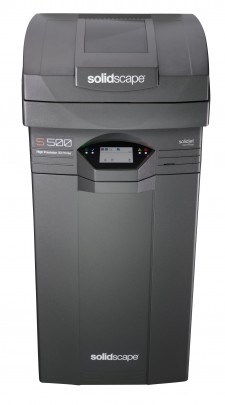 Solidscape, Inc, a subsidiary of Stratasys, Ltd, recently announced the launch of the S500 high precision 3D printer for industrial casting manufacturers.
St. Louis, MO, July 26, 2017 (Newswire.com) - Swoosh Technologies - a partner of Solidscape, Inc - will be adding the new S500 3D printer to their hardware line. The high precision 3D wax printer can dramatically shorten production time and comes with various benefits for industrial companies focused on investment casting - including clean burnout and melt-away, dissolvable supports. 
Ideal for industrial casting manufacturers who are looking to produce short volume parts or complex prototypes, the S500 is designed to make the printing of directly castable parts and the creation of custom molds from wax patterns repeatable and scalable.
"Many manufacturers need the ability to mass produce short volume parts at a quicker rate," explains Eric Kocher, 3D Printing Solution Consultant at Swoosh Technologies. "When it comes to 3D printing, it's critical that each printed part's outcome is identical to one another. With the S500, manufacturers can expect repeatable fabrication. No matter how complex the design or task, you can expect dimensional accuracy and superior external and internal surface finishes every time."
The S500 offers manufacturers the ability to create accurate, complex, precise wax patterns that can be directly cast in most metals and alloys and can also be used to create silicone or master molds - eliminating the need for expensive tooling. 
Along with the printer, new materials - including Midas and Melt-I - seamlessly integrate into existing manufacturing and casting processes and omits the need for special burn-out schedules and equipment. Midas provides a clean burnout with no thermal expansion and is ideal for metal casting - from stainless steel, nickel, and other various alloys. Melt-I - the non-toxic, hands-free dissolvable support - reduces the stress points on shapes with thin walls and delicate details while enabling manufacturers to produce parts with intricate or complex geometries with confidence.
The S500 and its materials are available for immediate purchase. Those interested in learning more about the S500 3D printer are encouraged to reach out to a Swoosh Representative at (314) 549-8110 or through the contact form found on the company's website. 
Source: Swoosh Technologies, Solidscape, Inc
Share: