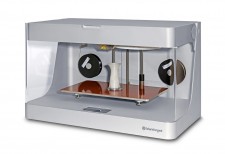 Swoosh Technologies announces a partnership with Markforged 3D Printers, to deliver leading industry professionals with high quality, high strength finished parts.
St. Louis, MO, November 9, 2016 (Newswire.com) - Swoosh Technologies, known as a leading provider of Siemens PLM Software, has partnered with Markforged to offer high quality, high strength, 3D printed finished parts.
About Markforged – Markforged 3D Printers are designed to create strong-as-metal, finished parts using the right materials for the job while removing multiple barriers between design and a final product, Markforged 3D printers are changing the way manufacturers are producing parts – eliminating many traditional methods and offering unprecedented cost, time, and efficiency savings. As the first and only affordable 3D desktop printer for various industries, Markforged embeds continuous fiber into printed carbon and nylon for an end-use composite part with the strength of metal.
Swoosh Technologies and Markforged offer two models, The Mark Two, combines Markforged's innovative materials with workhorse reliability all on your desktop. It is the only affordable printer in the industry that enables you to go from CAD to strong, stiff parts in hours, and The Mark X, the most powerful printer on the market, with industrial-scale printing of strong parts and the first ever precision sensing system.
For more information, about Swoosh Technologies, and Markforged 3D printers visit https://www.swooshtech.com/markforged.
Source: Swoosh Technologies
Share: